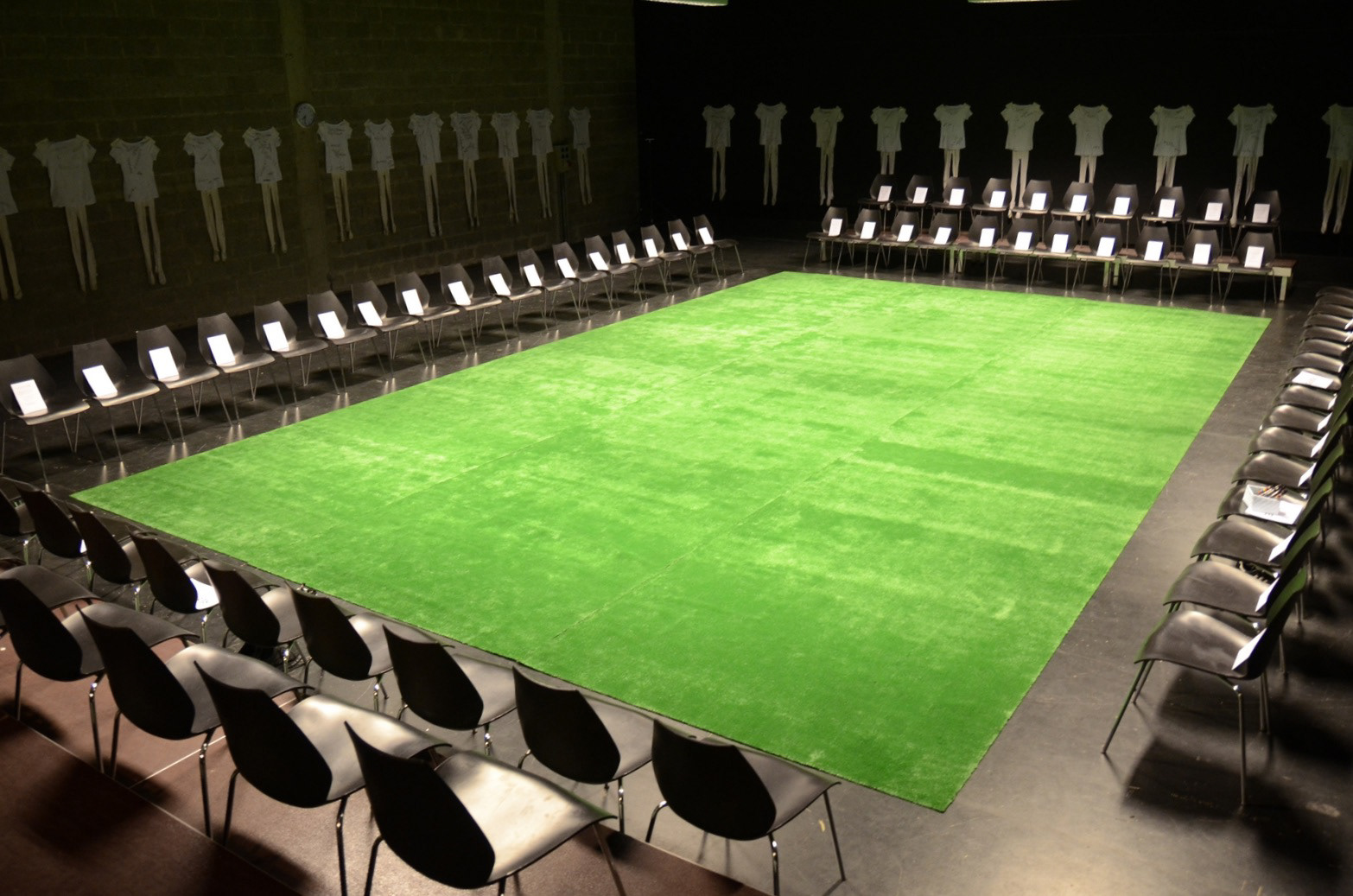 This choreography invites its audience to join in and play a part right from the beginning: to step onto the green and to write on the costumes of the performers, to answer personal questions to be precise. Then a choreography unfolds that in the end is handed over to the audience, to collectively reconstruct and transform what just happened a moment ago.


The choreography of the performance has been fully and literally written out beforehand in accordance with the principle of the game of
consequences
 which was adapted to the production of movement descriptions. In the work process the four performers constantly handed their descriptions of movements on to each other with the request to add to and make the description more precise. This gave rise to a complex set of written movements in four notebooks which together make up the choreography performed on stage. So, very unusually, in this production the written archive precedes the movement itself. In the second part of the performance the choreography is analysed once again and handed on to the audience in separate scores for a second 'second hand' interpretation. Bernhard Schreiner creates the music score live.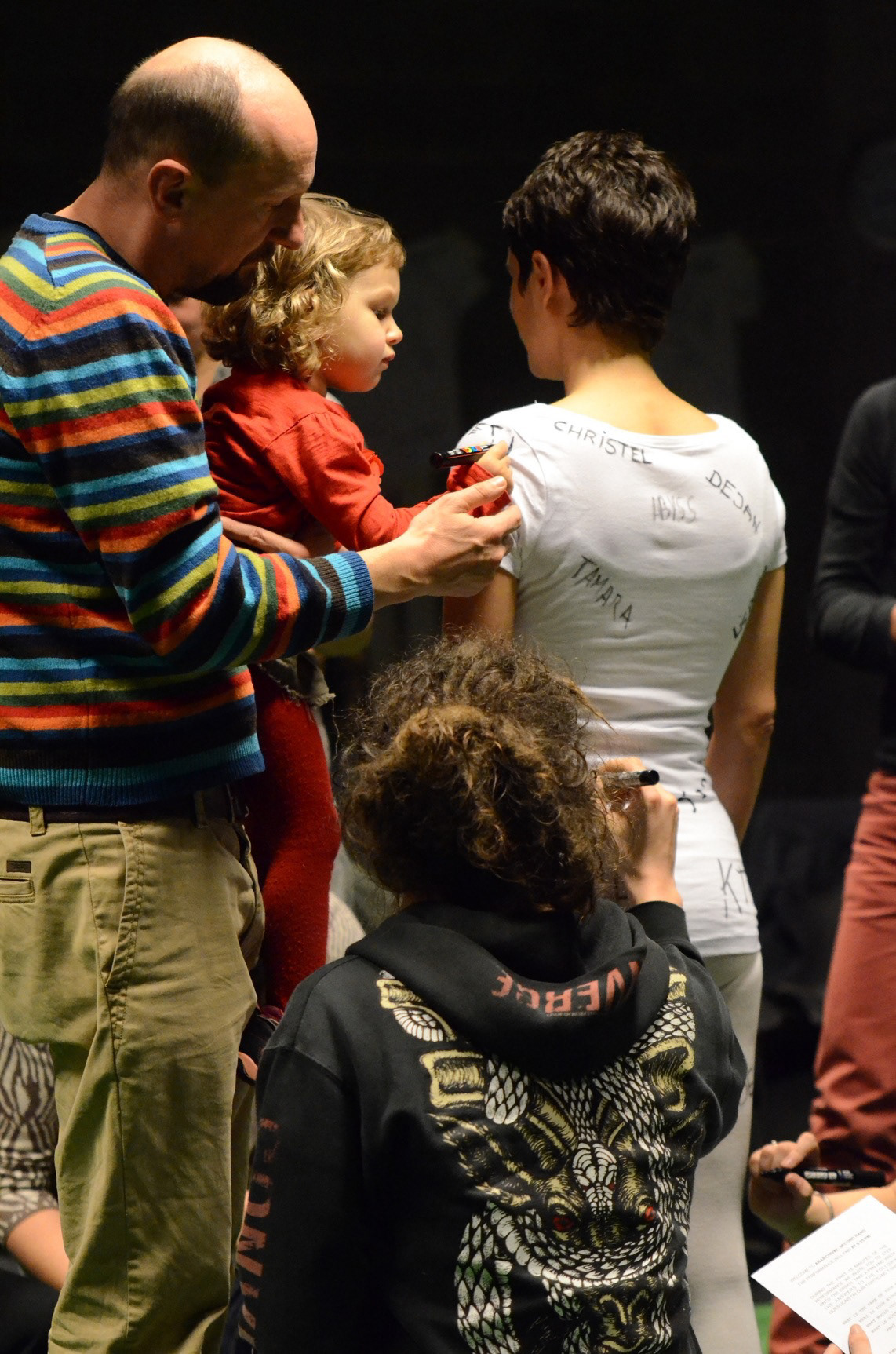 [
with and by] deufert+plischke /Cecilie Ullerup Schmidt [text] Marcus Steinweg [music] Bernhard Schreiner [production management] Barbara Greiner [production] deufert+plischke / Gemeinschaftspraxis Hamburg e.V. [supported by] the Hamburg City Council for Culture, Sports and Media / the National Performance Network (with funding provided by the German Federal Cultural Foundation as part of its project Dance Plan Germany) [co-production] Kaaitheater (Brussels) / PACT Zollverein (Essen) / Kampnagel (Hamburg).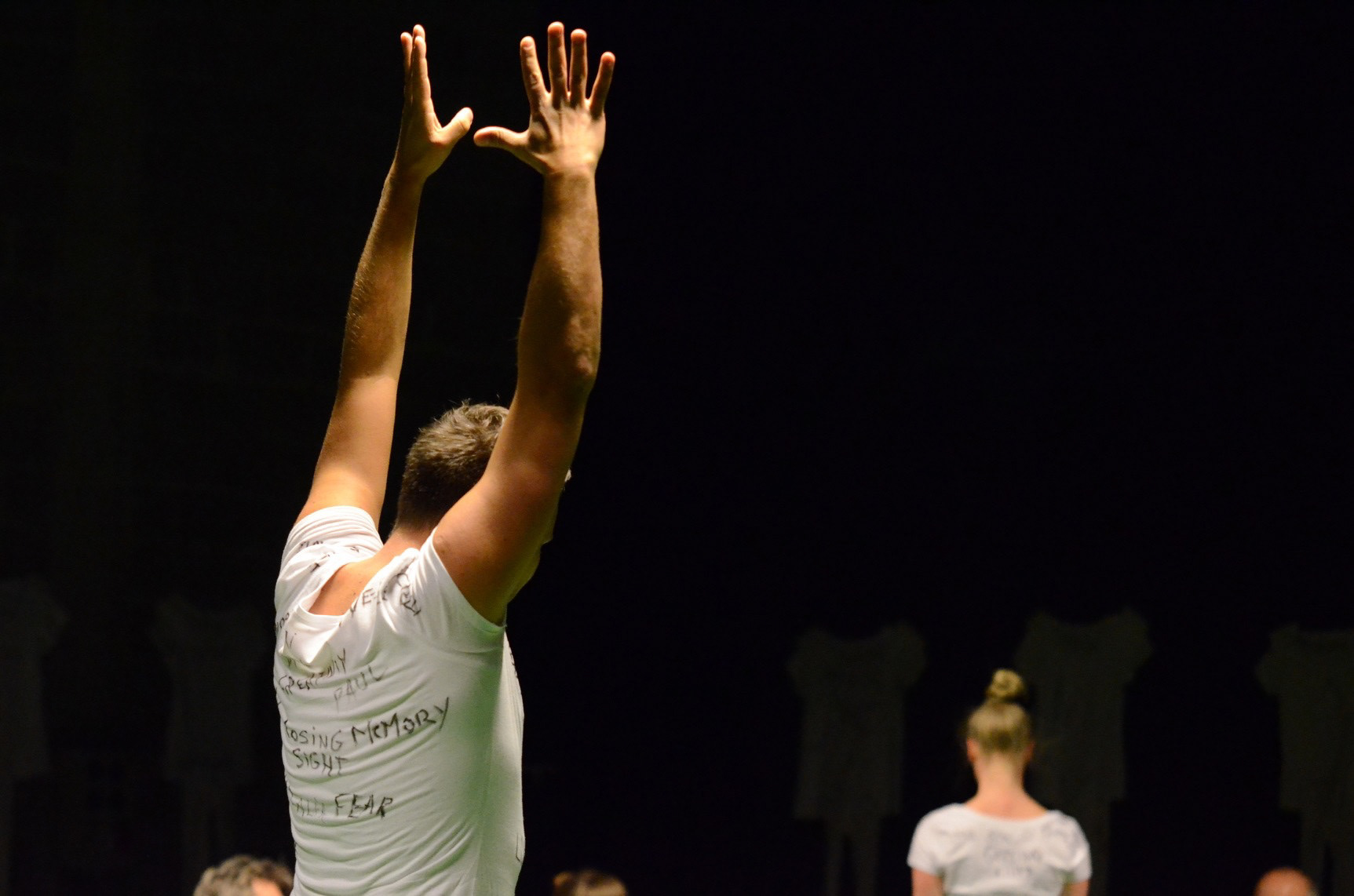 Mia Vaerman:
Now it really starts. The audience can play. Not haphazardly, but according to – yet again – written cards. Everyone receives three of them. You read something like: When someone stands on a chair: stand in front of this person and open your arms. The choreographic tasks are as simple as those of the performers. You saw them demonstrated before, which helps to beat diffidence. And during the whole time the lights have lit the entire studio, so that threshold is overcome too. Someone takes a first step, executes the movement while reading, and sits down again. Another lies down on his back, lifts legs and head, holds that posture for a moment, disappears. And then yet someone else, and a few others, together. The same soundscape as before, or is it being remixed? Again, the airplane will descend slowly. Inexperience inhibits people to jump massively onto the mat. At least the first evening; perhaps the second evening (I went twice) people had already received a phone call: will you come and join? Each time a kind of natural development emerges. Never chaos, sometimes a surprising rhythm. Or how something emerging spontaneously can be so beautiful. Again I realize that you look with heightened attention when you join yourself, you become tuned to the performance. In there resides a large part of the pleasure. It may even be essential in enjoying theatre and dance: your attention, the concentration that you YOURSELF afford – that has nothing to do with a message, with catharsis or empathy, but everything with physical readiness. Ha! Those who participate enjoy the performance and merge with it – you can see that. Men, women, skilful or clumsy, Carolien in her wheelchair – at last! Afterwards, I poke friends who only watched. It isn't clear whether their lack of enthusiasm is actually related to their aloofness…