Dressed in white tights and t-shirts, performers are sitting, standing, lying, eating, and hiding all over the space of the happening. They invite the audience to write onto their clothes: a note, a memory, a comment. For their involvement, each audience member receives a postcard with a photograph by deufert&plischke and a poem by Silke Scheuermann as a present.
EinSehen is a performative exhibition. The photographs by deufert&plischke and the poems by Silke Scheuermann are produced for each happening of EinSehen. However, the images and texts are not exhibited, they need to be "earned" in a gesture of mutual exchange: only when someone writes a personal note on the performer's bodies does one receive an image and poem in return. 
Both transactions include a physical and sensual element. The necessary proximity that the action of writing on the body demands is rewarded with a photo and a poem. The artwork is not exhibited "on the walls," but traded for memories and experiences.   
This installation can also be extended: in a special dressing room, the audience can change into white tights and t-shirts and thus become part of the installation themselves. 
EinSehen is the first collaboration of deufert&plischke with writer
Silke Scheuermann
and is inspired by her novel
Shanghai Performance
. This durational installation can happen in different spaces and at different events.
The first
EinSehen
was created with Stefanie Bäuerle, Alisa Beckstein, Theresa Boock, Cilgia Gadola, Alexandra Hennig, Agnes Kern, Boyoung Lee, Franziska Müller, Birte Opitz, Oona Plany, Valentin Schmehl, and Cathy Waldmann. It was created in the context of
Step-Text,
an experimental meeting of choreographers and writers at the Literarisches Colloquium Berlin.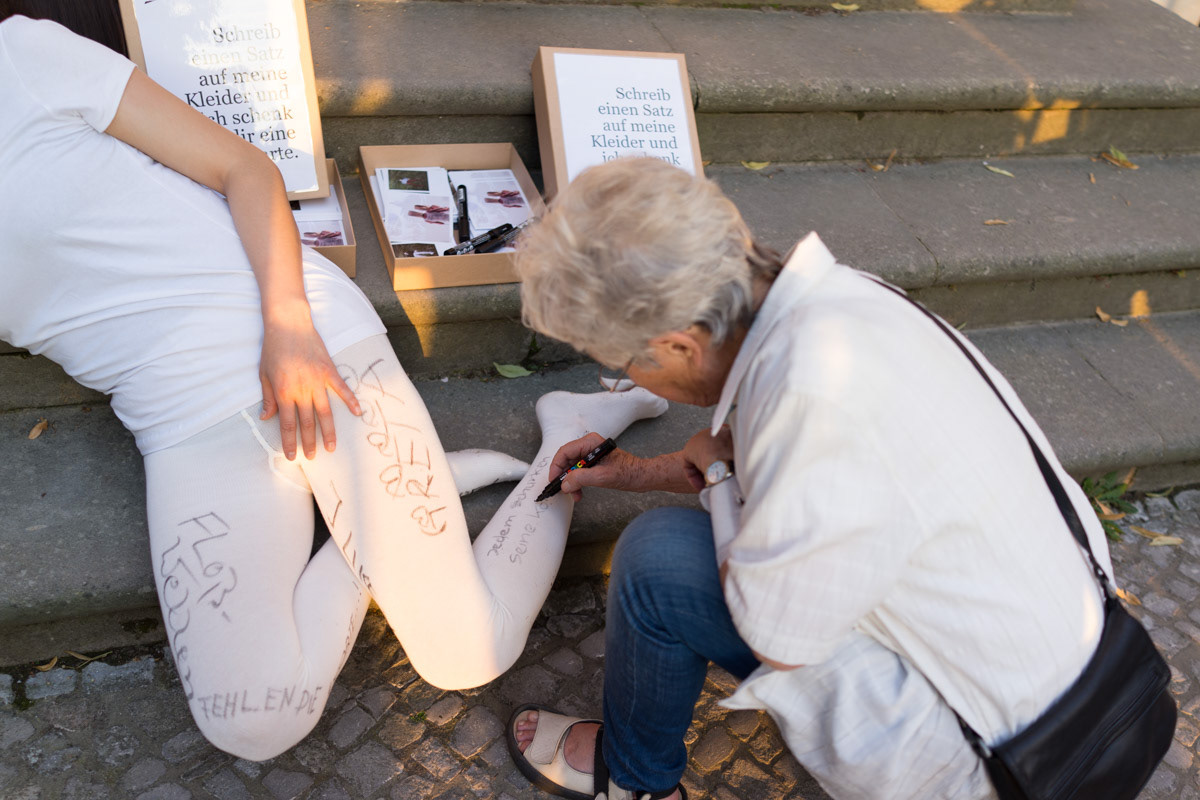 EinSehen

is adapted to the specificity of the event and location, and coordinated with the inviting institution. Before the happening deufert&plischke organize a 3-day workshop. The workshop is public and open to anyone interested. Participants from the workshop will then perform

EinSehen

. For each

EinSehen,

a new set of photos and poems is produced.