"The works of deufert&plischke focus on time, memory, myth, and how we should live together. As an artistic duo, for more than 15 years they have adhered to the radical notion that choreography can build society, not merely illustrate it. Thus, collaboration and participation are central themes in deufert&plischke's methodology, process and performance: in their multi-faceted work, be it a choreographic concert, lecture, or exhibition, theatre takes place only insofar as it can be knit together by everyone – artists and spectators – in the moment of performance. In the last two years, deufert&plischke have heralded the arrival of a "new epic theatre", which considers Brecht's notion in the light of post-dramatic theatre. [Kareth Schaffer]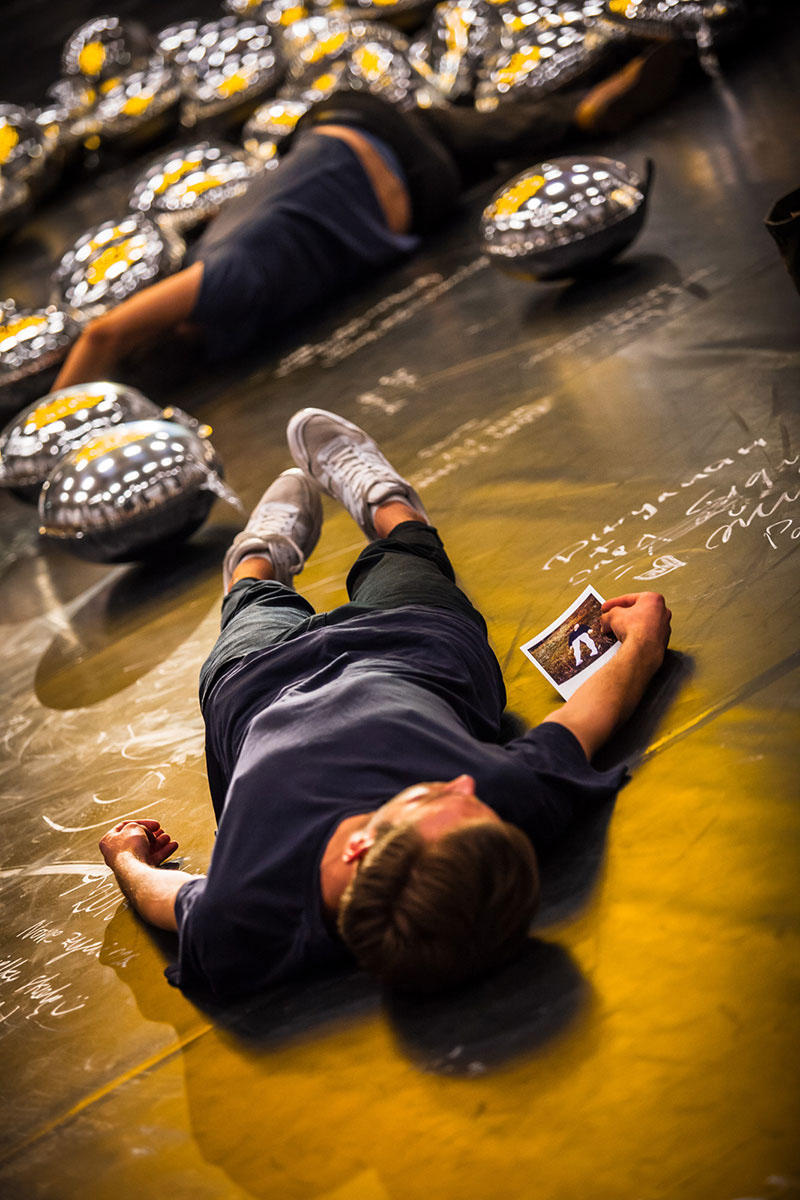 This all fits within the artistic strategy of deufert&plischke: they erase the artistic ego and have their work written collectively. Choreography thus becomes a social activity, not determined by aesthetic principles, but by existential and philosophical concepts such as war and peace, freedom and truth.
(Kaaitheater Brussels, announcing deufert&plischke's 

Niemandszeit)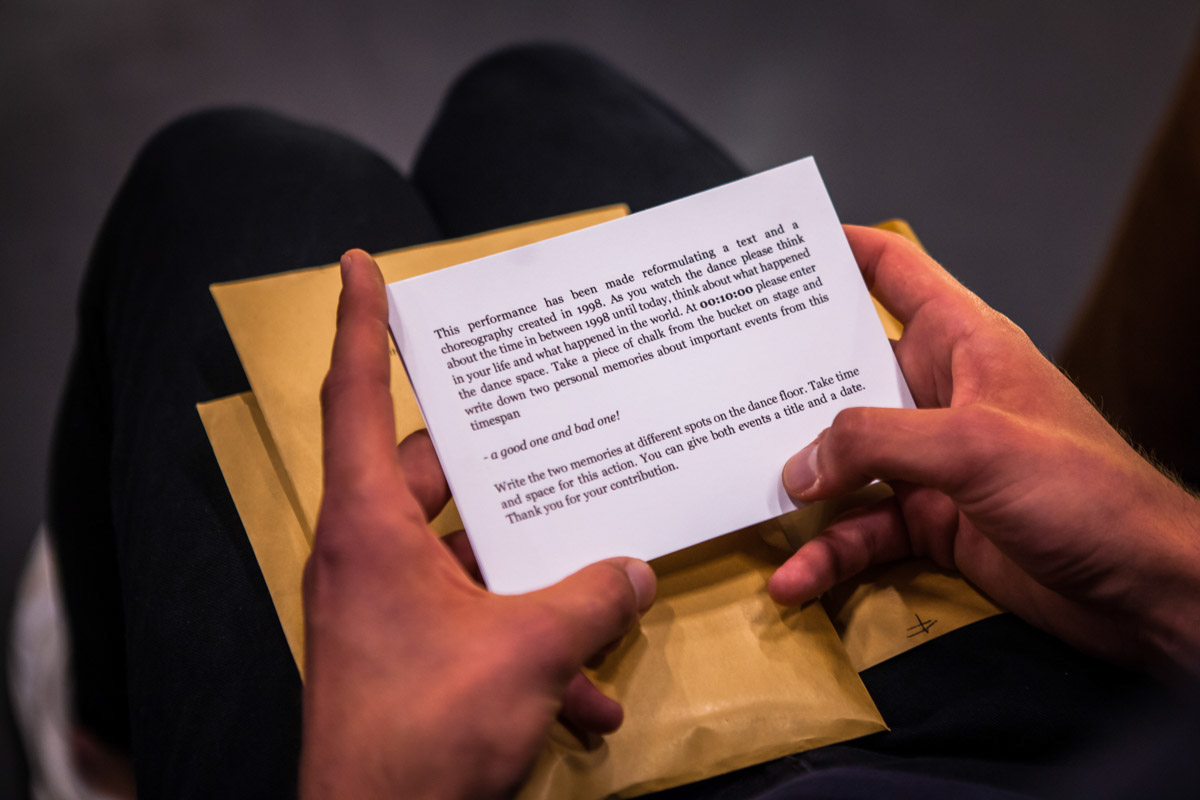 How do we want to live? In deufert&plischke's utopian spaces in the real world, this question is explored in several hours of woven togetherness. Here, lectures are given by guest philosophers, people play board games for their lives, faces are disguised with feathers and masks. In choreographic spaces where each participant follows instructions on an index card, people move, copy, follow, simulate, refuse, clap and watch. Every movement comes from the text. For over ten years, the artistwin deufert&plischke have invited others not only to show their choreography but also to write it. Under the motto »Give us your material and we'll show you what you're not doing to it«, they have erased the ego of the artist time and again through collective writing with students at the Inter-University Centre for Dance Berlin (HZT), several international academies and in collaboration with colleagues, they go by. In this way, choreography becomes a social writing practice, an act of weaving – not with the threads of aesthetic preferences but rather with the voices of existential threats such as war and love or philosophical concepts such as truth and freedom. The figures of Arachne, the child, the monster or snake-headed Medusa grin through cracks in the composition and gaze up from below. To the observer, the participants' movements seem childlike, gentle, funny or even clumsy. And that is precisely what makes deufert&plischke's dance an open playing field of – beware! – toxic green artificial grass, where life can be jointly re-negotiated. [Cecilie Ullerup Schmidt]
This theatre interweaves the sensuous with the intellectual through the immediacy of body, voice and community. It unfolds as a landscape of choice and commitment for all, where the political is inherent to the act of theatre, and where art is defended as necessary excess. In their unrelenting search for expanded notions of (social) choreography, deufert&plischke have also recently turned their attention to letter-writing – a nostalgic medium for digital times, a once-private activity made public. A series, starting with Letter to John Cage by Valda Setterfield and followed by Hans-Thies Lehmann and Helene Varopoulou's Brechtbrief, has been published in parallel to deufert&plischke's last two premieres, and will continue to expand in their upcoming work."  [Kareth Schaffer]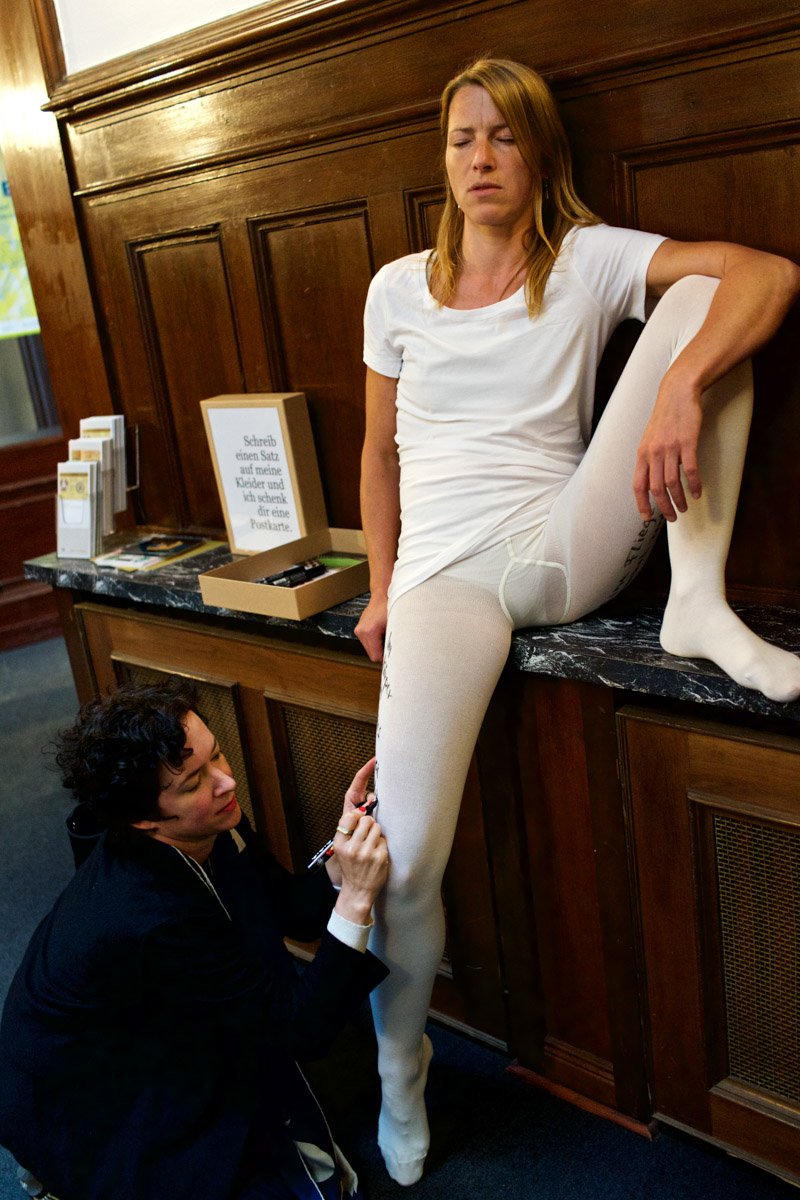 Theater as a

social situation

– from the common rehearsal to the performance – is the driving force of deufert&plischke's choreographic form and artistic expression. Their works are authored collectively: from their first cooperations,

postpolitical coincidences and how to knit your own private political body (2001)

and 

Directory: Europe Endless (2003)

, which gave birth to the fictional biography of the

artistwin

, up to their current work, which was created in cooperation with over 20 participating artists,

DURCHEINANDER (2015)

. In between, one finds work series ("Anarchive I-III", "Entropic Institute" and "Emergence Room") in which deufert&plischke developed their model of a

New Epic Theatre

. 
deufert&plischke have been teaching workshops internationally and been lecturing at many art academies and universities. They have been visiting professors at the University of Hamburg [Performance Studies], Justus Liebig University of Giessen [Applied Theater Studies] and from 2010 - 2014  in Dance, Context, Choreography [BA course] at the Inter-University Centre for Dance Berlin (HZT). In 2015 they have coordinated a research seminar at P.A.R.T.S. together with Alain Franco.
For an overview of their artistic work please click on agenda, where you will find an archive of their activities since 2001.